Post by Boaster on Jan 26, 2020 8:37:43 GMT -6
Summary
This service must either be an incomplete product or sloppily run. The biggest let down is the service does not indicate that there are two levels of service, and a description of the two levels of service (later discovered as "CORE" and "PRO"). Even if you spend money, depending on how you acquire the service, you may end up with "CORE" level of service.
Pros
- Offers gateways in cities that some other VPN services may not provide... but provides these exclusive city gateways only to "PRO" level customers.
- Suggests a "No Logging" policy.
- Offers a map showing gateway locations.
- Support does respond, through their help desk, and does try to assist where it can.
Cons
- Map showing gateway locations does not indicate required level of service (I.e. PRO vs CORE).
- Indiscriminately disables outgoing SMTP mail protocols/ports (port 25, 465, 587), citing prior abuse.
We had to block outgoing mail (SMTP) due to past issues with spammers using our service to send unsolicited commercial emails. You'll need to use webmail while on the VPN.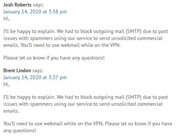 - Punishes all customers for the misbehavior of others.
- Blocks outgoing VPN ports/protocols, eliminating an end user from multiple tunnels to multiple VPNS, including non-commercial VPNs (i.e. connecting to a home network from work, or vice versa).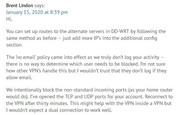 - Very limited.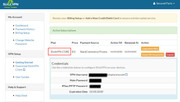 To my surprise, I started with CORE level of service after buying their services on promotion. They later did change this to PRO level, but only after having to make a case of non-disclosure/false advertising.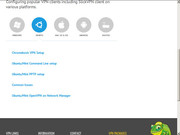 Shows PPTP guide for Linux.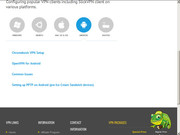 Shows PPTP guide for Android.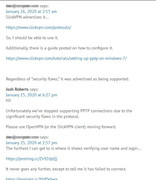 Cite "security flaws" as a reason they don't support the service, even after they have multiple points on their website claiming to offer it. It's nice to see that they care about the security of a random user... but chances are, a VPN customer knows a little bit about security and may be willing to use a particular protocol knowing the risks.
Who is to say that a user might use PPTP within an OpenVPN connection? I have certainly done this. There are so few dedicated people who are interested in the web traffic of others.
And certainly, there are times where a PPTP connection may be more advantageous to an end-user when OpenVPN protocols may not be easily or readily accessible (i.e. at work as a non-admin user).

Shows they support PPTP as a protocol.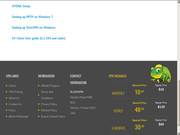 Shows PPTP support for Windows 7.
Conclusion
: Regret, Avoid. [/b]
Too many restrictions and too many hurdles to function for daily activity. The software is basic, but easy to follow.
If they didn't advertise or parade on their website that they have support and provide PPTP connections, a huge chunk of their website goes away. They especially do NOT disclose restrictions you will become subject to BEFORE you subscribe to their service.
They'd like for you to pay them to play as your gatekeeper, controlling how you use their gates you have paid to use. Spend your money elsewhere. NOT worth the trouble they DON'T ADVERTISE!